Plantas
Como hoje se fazem jardins. Nos EUA:

Plano do Parque Floyds Fork publicado terça-feira
Floyds Fork park development plan to be released Tuesday
Park designers to release ideas for development

By Marcus Green [email protected] The Courier-Journal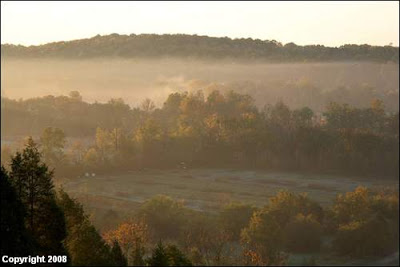 Along the banks of Floyds Fork in eastern Jefferson County, sports fields gradually give way to open meadows. Hiking trails curve along the water.
Further south, there are rugged vistas overlooking the creek and a string of parks offering playgrounds, picnic areas and a great lawn.
That's how designers see the Floyds Fork parks project developing over the years.
The public will get an opportunity to see that vision this week, reviewing an initial plan for new roads, trails, parks and swaths of rugged woods.
The plan lays out two massive parks, one between Shelbyville Road and Floyds Fork Park and another from Seatonville Road to Bardstown Road.
It also maps four major entry points -- each comparable to the Daniel Boone statue that serves as a distinct gateway to Cherokee Park, said Dan Jones, chairman of 21st Century Parks, the nonprofit group overseeing the project with Metro Parks and the Future Fund land trust.
Project leaders say they'll use feedback from neighbors, outdoor enthusiasts and citizens to finalize -- perhaps by mid-June -- the master plan drafted by the Philadelphia design firm Wallace Roberts & Todd.
Jones said the plan "provides choice and flexibility."
It will be released during an open house from 6 to 9 p.m. Tuesday at Christian Academy, 700 S. English Station Road.
The string of parks, open space and trails would run about 27 miles along Floyds Fork, mostly following the creek.
21st Century Parks, which Jones founded with his father, Humana co-founder David A. Jones, would manage privately owned land, while Metro Parks is to retain control over nearly 700 acres of public parks.
In response to concerns over a previous plan to give 21st Century Parks control over the public land, Metro Parks is helping to draft an ordinance that would keep the city's ownership of existing parks.
The privately owned land would be preserved forever as parkland primarily through deed restrictions, Jones said.
Chad Carlton, a spokesman for Mayor Jerry Abramson, said he expects the Metro Council will receive the measure in the next few weeks.
Abramson said the parks plan emphasizes the natural landscape in the Floyds Fork corridor.
"It's truly an exceptional design that will put Louisville in the top of the tier for parks and park design throughout the country," he said.
Preliminary master plan

The master plan accounts for nearly 3,200 acres -- more than twice the size of Cherokee, Iroquois and Shawnee parks combined.
It doesn't address another 800 acres that would link the northern and southern sections because land there hasn't been acquired, Jones said.
"We're working on it, but we're not there yet," he said.
In recent weeks, 21st Century Parks has started discussing the project with outdoor groups and residents of eastern Jefferson County.
"It's a fantastic plan," said Jim Ball, co-owner of Louisville's The Trail Store and Mountain Bike Depot, who attended last Monday's meeting in Jeffersontown.
For example, Ball said, he likes that family and picnic areas are proposed at park trailheads. "I think that is really good as a way to draw people into using the system," he said.
Nothing's final yet

Parks officials caution that the master plan's recommendations aren't final. They simply outline the anticipated ways a diverse collection of land -- meadows along the creek, rugged hillsides and thick woods -- will be used.
Those include balancing the existing ecosystem with active recreation areas such as trails and sports fields, Jones said.
The master plan calls for increasing the total forest land to 1,980 acres, from the existing 1,514 acres, and for increasing more than 500 acres of grassland through plantings and natural regeneration.
Wallace Roberts & Todd also lays out what it sees as the best uses for specific parcels of land. That includes sports fields on flat land close to Interstate 64, while leaving more rugged land to the south for hiking and camping.
"This operates on two levels -- one as a park for the entire community and one that also serves the needs of those people who live in that neighborhood or live around it," said Jim Walters, a Louisville architect consulting on the project.
Jones says there's a third level: Like state parks, the Floyds Fork project will be designed as a regional destination.
What the planners want

The master plan envisions eight miles of new roads leading to the parks and running through them.
From the north, vehicles would enter through a proposed extension of Blue Heron Lane, which starts at Shelbyville Road and ends at a Metropolitan Sewer District wastewater treatment plant along Floyds Fork.
Jones said planners prefer that route over using Beckley Station Road -- which he said would be a "harder, windier" road -- to enter the parks.
"It's just a much better way of getting people in," he said, adding that landscape improvements to parts of the treatment plant grounds would be planned.
MSD executive director Bud Schardein said MSD is willing to build a pavilion with public restrooms, which would cost less than $10,000, and allow parks officials to extend Blue Heron Lane across its property; 21st Century Parks would pay for the road improvements using federal funds already dedicated to the project.
Other major park entry points would be south of Taylorsville Road at Floyds Fork Park; on Brush Run Road west of Echo Trail; and where the creek passes under Bardstown Road.
What about the traffic?

Patricia L. Miles, who has lived in the Floyds Fork corridor for three decades, said she's opposed to more traffic in the area, including a new park road not far from her home.
"It's quiet and peaceful out there," she said, "and we would not want that changed."
The master plan envisions Echo Trail as a park drive outside the park boundaries.
It would be similar, Jones said, to Alta Vista Road serving as an entry road into Cherokee Park. Improving roads near the park would be the city's responsibility.
Abramson said it's too early to talk about specific roads, but he said, "We're going to make sure they're safe and provide easy access to this wonderful green space."
Morgan Nutt, president of the Jeffersontown Youth Soccer Association, said he's not concerned about traffic. He worries about vandalism.
"I'm a little nervous about all of this because nobody knew about this area and … everybody's going to be made aware of it," he said. "But if everybody takes care of it, it's going to be fine."
Jones and Abramson both acknowledge that there will need to be increased security in the parks, and that those discussions, which include the police, already are under way. And 21st Century promises a privately-funded endowment to cover maintenance.
Construction is expected to begin in 2009, Jones said, with most of the project to be completed between 2013 and 2015.
"This plan is funded, and it's going to get built," he said. "It's real. It's going to happen."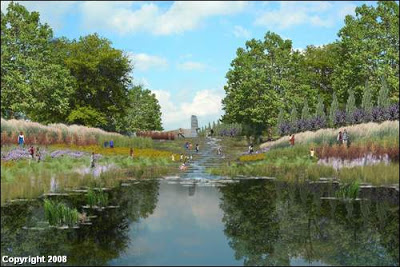 Notícia com links
Vídeo com Dan Jones, CEO da 21st Century Parks Project, que fala destes planos
-
Nova Iorque: últimos 90 Dias Para Fumar Em Espaços Públicos
There are only three months left for the city's smokers to indulge in their habit in public places. Not content with banning smoking in restaurants and bars, smoking in New York City's parks, beaches, board walks, pedestrian plazas and other public...
-
Livros De La Em Saldo Aqui
Livros da área de Arquitectura Paisagista. Por erro dos serviços de envio/correios e depois de uma reclamação estes livros estão repetidos. Ficaram guardados, não usados e esquecidos, desde há 2 anos, numa das estantes mais distantes. Aceitam-se...
-
Parks For People - 18.11.2008, Nottingham Arena
A conference looking at how to involve communities in the management, maintenance and improvement of parks and green space Click here to download the conference program (PDF) The contextCommunity involvement is a crucial factor in creating and maintaining...
-
"População incitada a registar espaços verdes" Na Times online , da Times de hoje Public urged to register green areas People should take steps to protect areas of green space that they have used informally for years - before developers try to exploit...
-
Desenhar O Espaço Com Bons Sentidos
Mais referências para melhorar o espaço urbano Designing small parks, a manual for adressing social and ecological concerns, Ann Forsyth and Laura Musacchio "Small parks are too often relegated to the status of stepchild of municipal and metropolitan...
Plantas